Things that have been seen and heard . . .
"Greetings from New Bremen"
Earlier this week I posted about the fundraiser,
"Greetings from New Bremen"
. The New Bremen Friends of the Library approached me about making some note cards for them to sell. Since I've spent most of my life in a library or with my nose in a library book, I was happy to help. You can purchase these at the Library, The New Bremen Coffee Company and Books and Topsy Turvy Toys, both in New Bremen. A box of ten sells for $10.00 and single cards are $1 each.
Here
is the article that ran in the Evening Leader.
So if you are looking for a cute stocking stuffer or just a way to contribute to the Friends of the Library, here's your answer.
With the upcoming Christmas season its hard to ignore the status of the economy. A local New Bremen couple, Troy and Amy Grillot are taking their person heartbreak and turning it into a
beautiful tribute
to the newborn son they lost last year before the holidays.
Here is the link to their beautiful story. Their website has lists that you can download and use when doing your holiday shopping. I'm very moved by their story and their motivation to help. These gifts will be specifically given to 3 anonymous families in our area. Each family has suffer this past year. Physically, financially, and emotionally. (This is the point where I count my blessings) . Anyway, I hope others will hear their story and be motivated to give.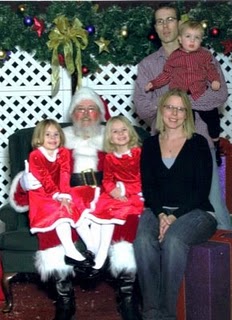 Women in Business Luncheon
Local Businesswoman are invited to enjoy lunch, a program and excellent networking. The meeting will be held on Thursday, Dec. 10 at 11:30 at
Bella's Italian Grille
, located at 108 West Bank Road, Celina. The program will be "Keeping it Together Through the Holidays". Please send your RSVP by Dec. 4th to
amy@stmarysohio.org
. Also, they will be taking donations of
"something warm".
This includes new coats, gloves, scarves or hats. All local business women and invited to attend.
SW Auglaize County Chamber of Commerce Holiday Party.
Anyone interested in joining the Chamber of Commerce might consider dropping by the upcoming
Holiday Business After Hours
on Thursday Dec 10th from 5-7 pm at the Eagles in Minster. This year's event is sponsored by the following Chamber Members: Wagners IGA Minster/Fort Loramie; Coldwell Banker South Shore Realty; and Sarapaper.
Please send your RSVP to
info@auglaize.org
as soon as possible if you plan to attend. Also, we're still looking for door prize donations from Chamber members. This is a GREAT way to promote your business! You can visit the Chamber website at
www.auglaize.org
for more details.